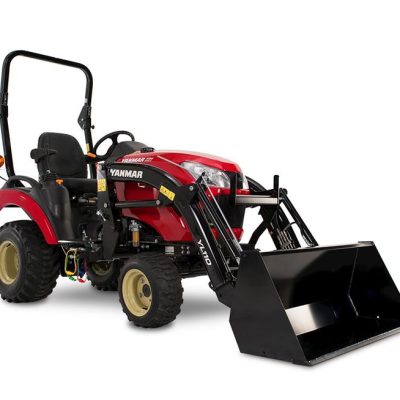 Multi-purpose Compact Tractor
Make: Yanmar
Type: Tractors
Location:
2244 W Morton Ave
Jacksonville, IL 62650
Description
The SA221 packs the power you'd expect from a much larger tractor. That means the SA221 can do serious work with a front-end loader, a hydraulic backhoe, and three-point hitch attachments for mowing, tilling, planting, digging, plowing and so much more.
When you climb on board, you're taking a step up.
Don't settle for less when you can have more. YANMAR's 221 is a fully outfitted tractor powered by our legendary 3-cylinder, liquid-cooled diesel engine. Designed with the operator in mind, it's built for comfort and ease of operation. Wide-open sightlines and easy access to all instruments and controls make it more pleasurable to operate, while the full-frame chassis lessens vibration for a smoother ride. This is the step-up you deserve.
The SA221 is a fully outfitted, multipurpose compact tractor, powered by a fuel-efficient three-cylinder, liquid-cooled YANMAR diesel engine. We designed this tractor to generate more usable horsepower and deliver a smoother, more comfortable ride. You'll quickly appreciate the redesigned open platform, with its convenient and easy-to-use controls that simplify operation for users of all experience levels.
Gross Power: EPA Regulation HP (kW)
21.5 (16.0)
Overall Length (with 3-Point Hitch)
102.1 (2,594)
Overall Width (with R4 Tires)
47.3 (1,200)
Overall Height (with Roll-Over Protection, and R4 tires)
82.3 (2,090)
Transmission
Hydrostatic Transmission
Drive Type
Selected 4WD
Lift Capacity (Pivot Pin) lb. (kg)
825 (375)
Bucket Width in. (mm)
48 (1,219)
PTO Power HP (kW)
15.6 (11.6)
Rear PTO Speed/Engine RPM
554/3,200
Mid PTO Speed/Engine RPM
2,057/3,200
Wheel Base
57.9 (1,400)
Front Tires (with R4)
18x8.50-10 6PR
Rear Tires (with R4)
26x12.0-12 4PR
3-Point Hitch
Limited Category 1