Continuing Service after the Sale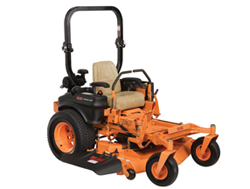 We couldn't be more proud of the service department here at Henry's Service Center. After all, service is what our company was founded on. Since 1972, we've provided reliable and efficient service on outdoor equipment and we continue that same tradition today.
Trained Technicians
With three full time factory trained mechanics, we have one of the best turn-around time on equipment repairs in the area. We're trained and authorized to service all the brands we sell, and most major brands of small engines as well.
Full Service Parts Department
Our Parts Department is stocked with the most commonly needed parts for the brands we carry, and if there is a part you need that we do not have in stock, we will get it here ASAP! (Overnight shipping available at customer's expense.)
Pickup and Delivery
Our pick-up and delivery service will go anywhere to take care of your equipment, and we provide free loaners to commercial cutters if the repair is expected to cause downtime. If you need to schedule service on any of your equipment, schedule a pick-up or delivery. If you need to inquire about a part, don't hesitate to contact us today!
MONDAY-FRIDAY:
8:00 am – 5:00 pm
SATURDAY:
Closed
SUNDAY:
Closed
*Additional hours are available by appointment