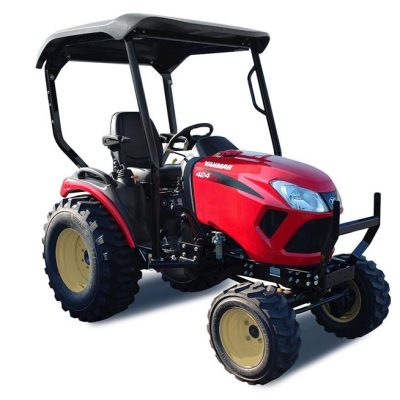 Multi-purpose Compact Tractor
Make: Yanmar
Type: Tractors
Location:
2244 W Morton Ave
Jacksonville, IL 62650
Description
The SA424DHX can do serious work with a front-end loader, a hydraulic backhoe, and three-point hitch attachments for mowing, tilling, planting, digging, plowing, and much more.
Comfort, protection, and confidence.
YANMAR designed the SA424DHX tractor with high ground clearance and incredible stability for challenging terrain. Then we added a four-post rollover protective structure (ROPS). That makes it possible for you to order an optional soft-side cab or a hard-side cab with a heater. With protection from the cold or rain, you'll be more comfortable and productive.
YANMAR outfits the SA424 DHX with a larger, more aggressive tire package, which increases ground clearance and provides more stability over the roughest parts of your property. The design also means you'll operate with complete comfort and confidence.
Gross Power: EPA Regulation HP (kW)
23.9 (17.8)
Overall Length (with 3-Point Hitch)
105.8 (2,688)
Overall Width (with R4 Tires)
54.1 (1,373)
Overall Height (with Roll-Over Protection, and R4 tires)
87.2 (2,215)
Transmission
Hydrostatic Transmission, Dual Range Speeds
Drive Type
Selected 4WD
Lift Capacity (Pivot Pin) lb. (kg)
1,199 (545)
Bucket Width in. (mm)
53 (1,346)
PTO Power HP (kW)
18.1 (13.5)
Rear PTO Speed/Engine RPM
554/3,200
Mid PTO Speed/Engine RPM
2,057/3,200
Wheel Base
63.0 (1,600)
Front Tires (with R4)
23x8.50-12 4PR
Rear Tires (with R4)
14-17.5 6PR
3-Point Hitch
Limited Category 1