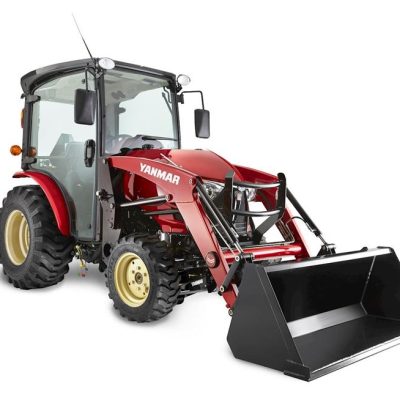 Multi-purpose Compact Tractor
Make: Yanmar
Type: Tractors
Location:
2244 W Morton Ave
Jacksonville, IL 62650
Description
The YT235C has you covered with its enclosed cab, so you can keep working regardless of the weather. The YT235C is equipped with a hydrostatic transmission that gives you a virtually infinite selection from the tractor's lowest creeper speed to its maximum transport speed. Quickly find the ideal speed for the easiest to the most demanding jobs.
Comfort + Control + Innovation.
As with every YANMAR tractor, the true power lies in the fuel-efficient YANMAR diesel engine. That means the YT235C can do serious work with a front-end loader, a hydraulic backhoe, and three-point hitch attachments for mowing, tilling, planting, digging, plowing, and much more. YANMAR designs and builds the major components, engine, front axle, transmission, and final drive, to work together.
The optional cab on the Yanmar YT235C tractor creates a new level of comfort with both heating and air conditioning sealed in. The high-backed, deluxe seat includes standard armrests. Every detail has been considered not just for your physical comfort but also for your optimum productivity and efficiency.
Gross Power: EPA Regulation HP (kW)
34.2 HP(26.1 kW)*
Overall length (with 3PH and R4 Tires)
116.9" (2,970 mm)
Overall Width (with R4 Tires)
58.3" (1,482 mm)
Overall Height (with Roll-Over Protection, and R4 tires)
83.6" (2,123 mm)
Transmission
Hydrostatic (Dual Touch Pedal)
Drive Type
2WD/4WD selectable engagement
Lift Capacity (Pivot Pin) lb. (kg)
1,300 lb. (590 kg)
Bucket Width in. (mm)
60" (1,524 mm)
PTO Power HP (kW)
27 HP (20.1 kW)
Rear PTO Speed/Engine RPM
540
Mid PTO Speed/Engine RPM
2,013
Wheel Base
65" (1,650 mm)
Front Tires (with R4)
13.6" x 16"
Rear Tires (with R4)
15" - 19.6"
3-Point Hitch
Category 1