[vc_row type="in_container" full_screen_row_position="middle" scene_position="center" text_color="dark" text_align="left" overlay_strength="0.3″][vc_column column_padding="no-extra-padding" column_padding_position="all" background_color_opacity="1″ background_hover_color_opacity="1″ column_shadow="none" width="1/1″ tablet_text_alignment="default" phone_text_alignment="default" column_border_width="none" column_border_style="solid"][vc_column_text]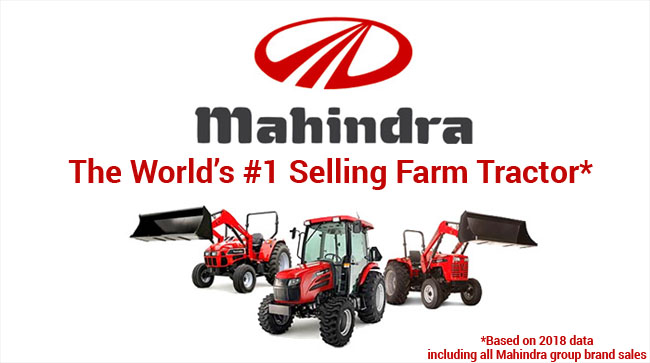 Authorized Mahindra tractor dealer and distributor, providing excellent sales and service. We sell a complete line of Mahindra Tractors.
Every day around the world, Mahindra tractors pull their weight in performance and reliability. In 2010 Mahindra became the #1 selling farm tractor* in the world.

*Based on 2018 data including all Mahindra group brand sales
More performance. More strength. More value. Built with heavy-duty components, Mahindra tractors have the power to lift heavier loads and use larger implements so you can get your work done faster. The rugged cast-iron chassis on a Mahindra tractor makes it heavier and sturdier for greater traction, stability and control. What's more, they are certified "Mahindra Work Ready" so they are up for the job right from the start.
Call us today for more information.
1-217-243-5400
[/vc_column_text][/vc_column][/vc_row][vc_row type="in_container" full_screen_row_position="middle" scene_position="center" text_color="dark" text_align="left" overlay_strength="0.3″][vc_column column_padding="no-extra-padding" column_padding_position="all" background_color_opacity="1″ background_hover_color_opacity="1″ column_shadow="none" width="1/4″ tablet_text_alignment="default" phone_text_alignment="default" column_border_width="none" column_border_style="solid"][image_with_animation image_url="189″ alignment="center" animation="Fade In" box_shadow="none" max_width="100%"][/vc_column][vc_column column_padding="no-extra-padding" column_padding_position="all" background_color_opacity="1″ background_hover_color_opacity="1″ column_shadow="none" width="1/4″ tablet_text_alignment="default" phone_text_alignment="default" column_border_width="none" column_border_style="solid"][image_with_animation image_url="188″ alignment="center" animation="Fade In" box_shadow="none" max_width="100%"][/vc_column][vc_column column_padding="no-extra-padding" column_padding_position="all" background_color_opacity="1″ background_hover_color_opacity="1″ column_shadow="none" width="1/4″ tablet_text_alignment="default" phone_text_alignment="default" column_border_width="none" column_border_style="solid"][image_with_animation image_url="187″ alignment="center" animation="Fade In" box_shadow="none" max_width="100%"][/vc_column][vc_column column_padding="no-extra-padding" column_padding_position="all" background_color_opacity="1″ background_hover_color_opacity="1″ column_shadow="none" width="1/4″ tablet_text_alignment="default" phone_text_alignment="default" column_border_width="none" column_border_style="solid"][image_with_animation image_url="186″ alignment="center" animation="Fade In" box_shadow="none" max_width="100%"][/vc_column][/vc_row]